Ethiopia
Risk Level:
Two - Danger exists
[ about risk levels ]
There has been an increase in clashes in Ethiopia's Tigray region lately, despite a ceasefire agreed earlier in 2022. Airspace in the north of the country should be avoided - several states maintain active airspace warnings for the HAAA/Addis FIR, and Ethiopia still have a Notam in place banning all flights at FL290 and below: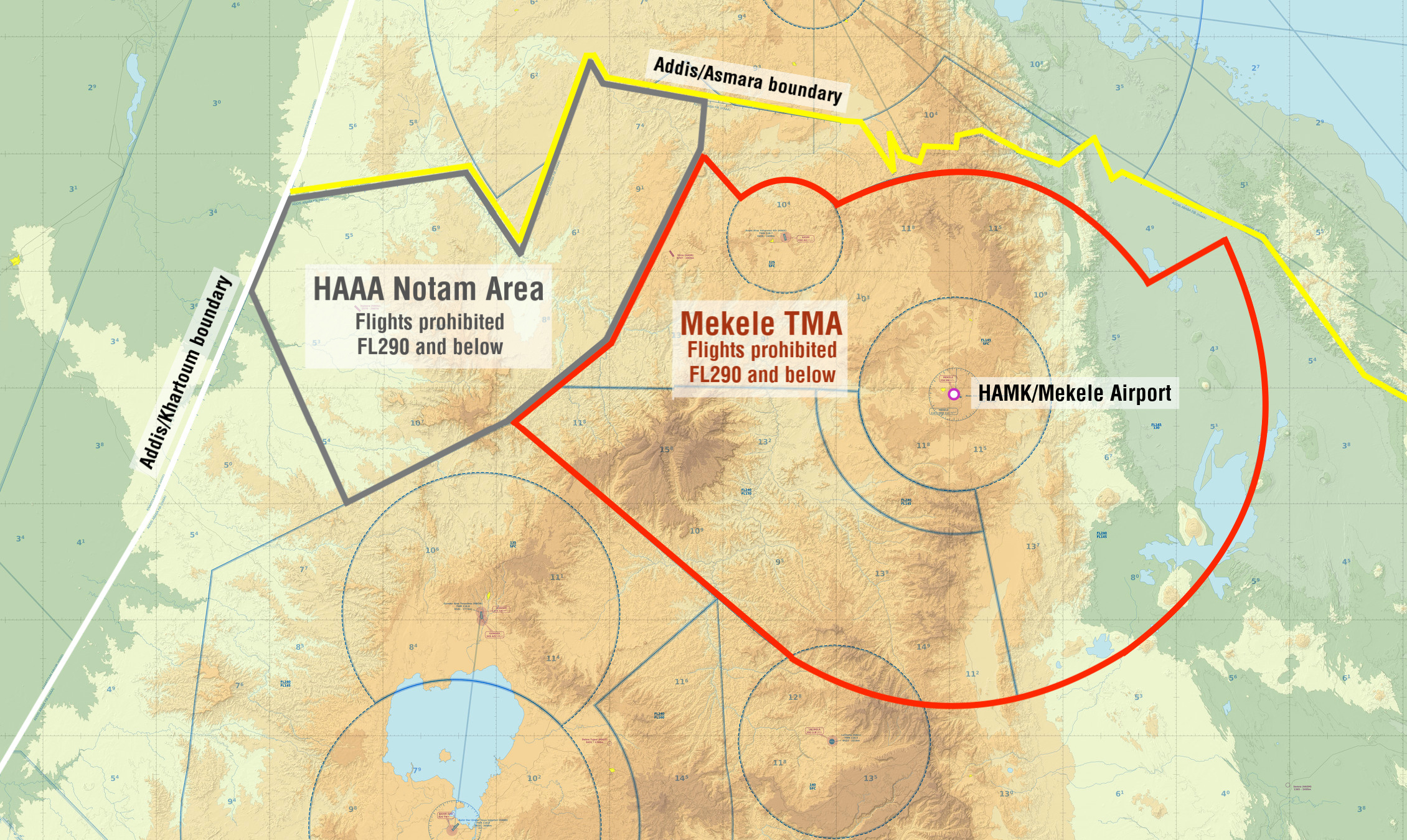 The
primary risk
to aviation is from misidentification/miscalculation by TPLF or government forces with the use of anti-aircraft weaponry. In other words - civil aircraft being mistaken for something of military interest, or simply caught in the crossfire.
Major Events:
Nov 2021: Six-month nationwide state of emergency declared, following increased fighting between the military and TPLF rebel forces in the north of the country. Several western countries have issued security warnings. The US is now saying "do not travel" to Ethiopia due to armed conflict and civil unrest, and is encouraging those who are in the country to leave. The conflict will likely intensify in the coming weeks - the government has urged people in the capital Addis Ababa to arm themselves, as the northern rebel forces advance to the south.
July 2021: HAAA/Addis FIR published a Notam closing a section of airspace below FL290 over the Tigray region along the Ethiopia/Eritrea border. This follows reports that militia shot down a military transport plane in the region the previous week, near the capital Mekele. Caution if overflying the area, particularly on airways UM656/UT124 between the HSSS/Khartoum and HAAA/Addis FIRs which have previously been closed due to the conflict.
Nov 2020: Major escalation of the conflict in the Tigray region, along the Ethiopia/Eritrea border. Some airways were closed by the Ethiopian and Sudanese CAAs. Other airways that were still open were very close to the conflict zone. These are frequently used by international operators on the Europe-East Africa route. In particular: UN321, UG300 and UL432. Multiple airports were targeted by rockets. Missiles were fired across the border into Eritrea, targeting HHAS/Asmara. Within Ethiopia, HABD/Bahir Dar and HAGN/Gondar were also targeted.
Sep 2018: Risk due to hidden ATC strike. Ethiopian ATC controllers went on strike, and the ECAA and Ethiopian Airlines recruited both retired and foreign controllers to pick up the slack. Ethiopia denied several times that there was in fact a strike happening at all. The strike ended September 7th. Many were not qualified to operate in Ethiopian airspace, due to inexperience.