Armenia
Risk Level:
Three - Caution
[ about risk levels ]
Border conflict between Armenia and Azerbaijan officially ended with a peace agreement in Nov 2020. All airspace has reopened, and Azerbaijan has cancelled its Notam warning operators of the threat posed by long-range missiles. The only remaining airspace warning for Armenia is that of France, who say that operators should not overfly the east of the country along the border with Azerbaijan.
The
primary risk
is from any large-scale ceasefire violations involving missiles or anti-aircraft weaponry. So far, we have not seen anything like this - just minor skirmishes on the ground in the Nagorno-Karabakh region along the southern border between Armenia and Azerbaijan.
Major events:
Sep/Oct 2020: Conflict between Armenia and Azerbaijan led to large sections of closed airspace along the northern border. UBBA/Baku issued a Notam warning of threat posed by long-range missiles which they claimed Armenia had been using to target locations throughout Azerbaijan. Germany issued Notams warning of a potential risk to aviation from military operations including anti aviation weaponry. Dec 2020: Direct crossing traffic is now technically possible again. However, for the time being, most East-West flights are currently still electing to go further north instead (connecting between Azerbaijan and Georgia's airspace, avoiding Armenia).
Read:
Armenia/Azerbaijan Airspace Update, Dec 2020 (OPSGROUP article)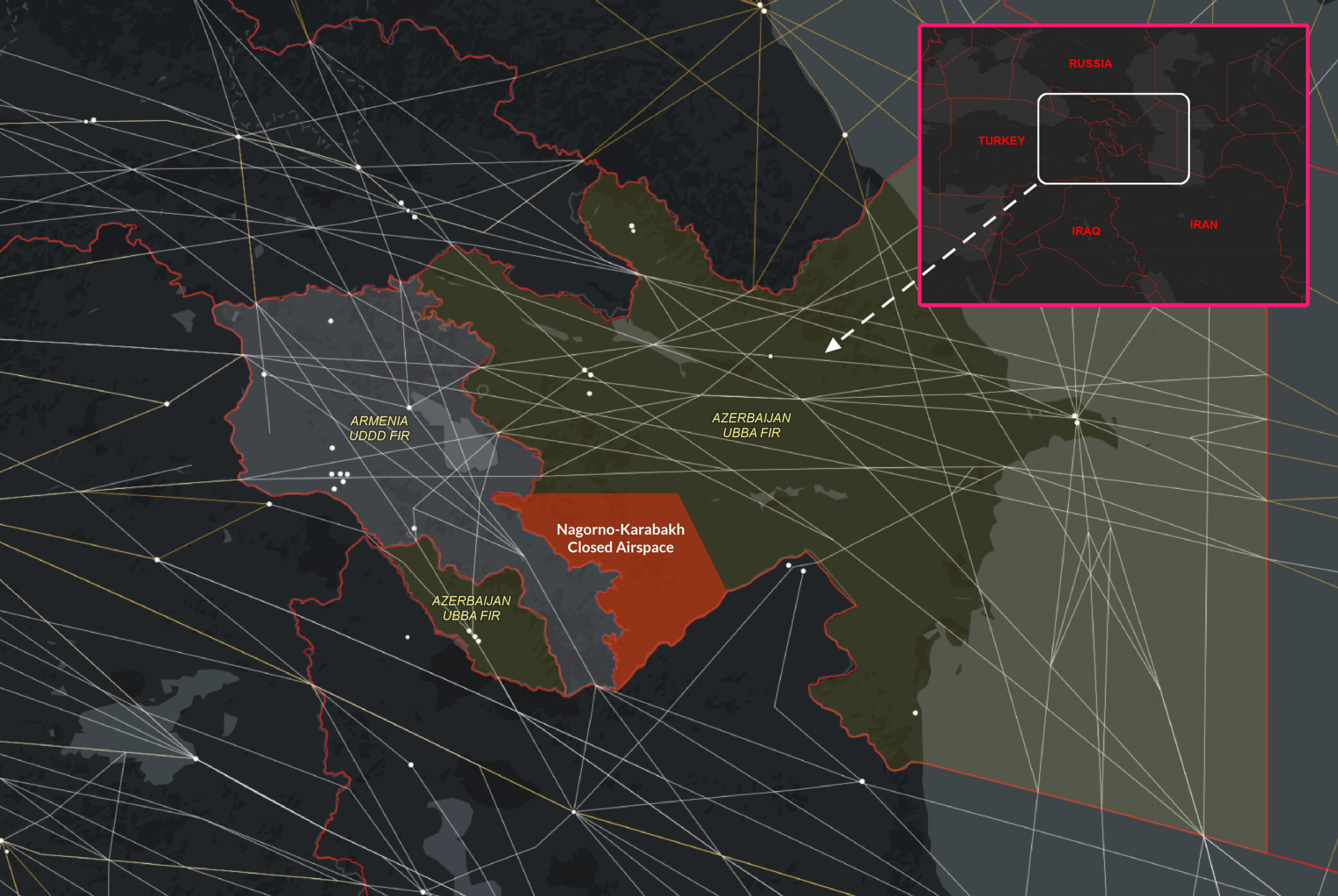 Current warnings list :
Source
Reference
Issued
Valid to
France
AIC 23/20
23 Jul 2020
Ongoing
Source: France
Issued: 23-Jul-20, valid until: Ongoing
Plain English:
Operators should not overfly Armenia east of 44'45 East longitude (essentially everywhere in the east of the country along the border with Azerbaijan).
From 23/07/2020 and until further notice, French air carriers and owners of aircraft registered in France are requested not to authorize their aircraft to penetrate in the part of the YEREVAN SVARNOTS FIR (UDDD) east of the meridian 44°45'00"E and in the part of the BAKU FIR (UBBA) west of the meridian 47°20'00" E except for routes M737 (between DISKA and VERCA), M747 (between VERCA and LIMTI), T916 (between LEYLA and SUBUT), N161 (between LEYLA and LIMTI), N996 (between GIPAR and SUBUT), L850, N644, N319, T923 and T921 on which a flight level above or equal to FL340 is requested at all times.